The Best Restaurants in Chicago Right Now
Navigating Chicago's epic and ever-evolving dining scene can be hard, but it doesn't have to be. Use this list as your guidebook to the hottest places to dine in the Windy City right now and thank us later. Some of these spots are new and noteworthy, while others are neighborhood gems we'd be remiss not to include; all are Thrillist-approved.
Lincoln Park
Romantic enough for a date night and inventive enough to surprise even the most jaded of palates, this time-tested favorite promises a great atmosphere (including a breathtaking "living wall" punctuated with anthropomorphized animal paintings) and even greater food. Crafted by visionary Lee Wolen, the Michelin-starred menu is an exercise in mixing complementary flavors and textures; no dish better exemplifies this than Wolen's heirloom carrots, which come to life with pistachio crumbles, bulgur, and smoked goat cheese. And by all means, save room for one of pastry chef Meg Galus' equally whimsical desserts.
Irving Park
This Texas-style barbecue joint has been slingin' its signature brisket and ribs for the better part of a decade, and remains steadfast as the North Side's top dog for smoked meats. It's BYOB, so arrive hungry and with a frosty six-pack of your favorite local brew in tow to fend off the inevitable meat sweats.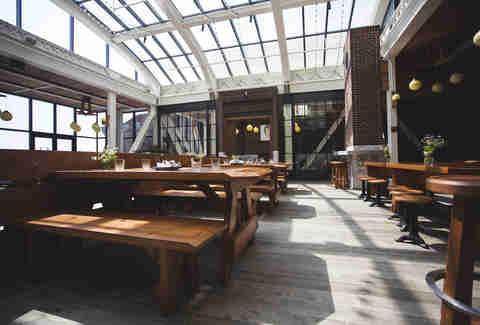 Loop
Following a meticulous renovation project, this breathtaking historical building now operates as a boutique hotel that houses several food and drink options, including Chicago's second Shake Shack outpost and a rooftop restaurant and open-air terrace with a beachy vibe. Wait, there's more! The game room bar boasts a built-in bocce bay, billiards, shuffleboard, and a beverage program designed by Paul McGee. There's also a Prohibition-era whiskey bar, and a fully reimagined Cherry Circle Room inspired by CAA menus dating back more than a century.
Logan Square
This OG Logan Square favorite was embracing the farm-to-table philosophy long before it was cool, and has remained one of the North Side's most in-demand weekend brunch destinations since opening in 1999. The menu is subject to change depending on the seasonal availability of certain ingredients, but "The Royale" breakfast sandwich, which is currently made with turkey leg confit, Gruyere cheese, braised bacon, parsley salad, and a sunny-side egg on sourdough, is a sure bet.
Lincoln Park
While classic deep dish is undeniably "Chicago," it's worth noting that some of the best pies in the city don't necessarily conform to expectations. Case in point: the dreamy pan pizza with signature caramelized cheese crust at this Clybourn Ave mainstay, which scored a place on our Chicago Bucket List for good reason.
Humboldt Park
With its hippie spirit and namesake hash lineup, this whimsical diner is one of West Town's coolest hidden gems. Pull up a seat at one of the mosaic-topped tables and revel in the porcine magic that is the bacon fat hash with pork shoulder, sweet potatoes, and Brussels sprouts laden with rich mustard cream sauce.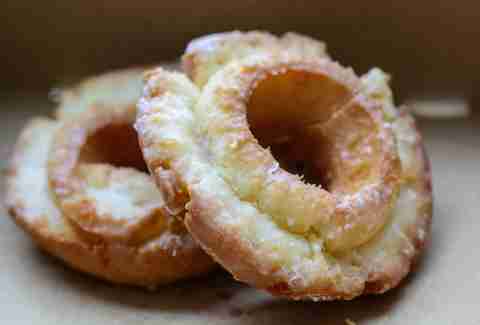 River North
Brendan Sodikoff's award-winning donut shop sets the bar unattainably high with its supremely dense, moist old-fashioned-style donuts. The crave-worthy dough rings come in flavors like toasted almond, classic buttermilk glazed, and lemon-poppy seed, and in limited production daily, which means, once they sell out, they're gone 'til the next morning. Pro tip: If you're lucky, you can also score them at some of Sodikoff's other concepts, including 3 Arts Club Cafe, Sawada Coffee, and C. C. Ferns.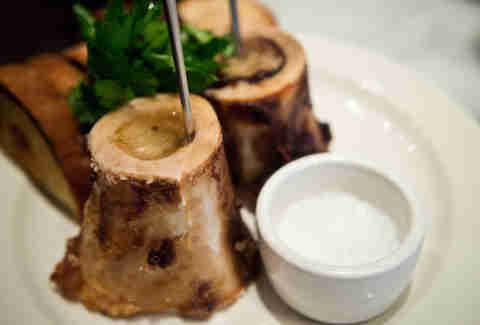 River North
All-swine-everything is the name of the game at this Mag Mile staple from Jimmy Bannos Jr. Pig out on pork-fried almonds spiked with rosemary and garlic, milk-braised pork shoulder with mashed potatoes, and plentiful cured meats, and if you're the adventurous sort, don't miss the "JLT" made with pork jowl, tomato, frisee, and a duck egg fried sunny-side up.
SaveSave